WHAT IS THE COLORADO MASTER IRRIGATOR PROGRAM?
Colorado Master Irrigator is a comprehensive educational course available to
​Republican River Basin and San Luis Valley irrigators.​
Colorado Master Irrigator offers farmers and farm managers advanced training on conservation- and efficiency-oriented irrigation management practices and tools. This program is the product of efforts led by several local producers, district management representatives, and others. Colorado Master Irrigator is modeled on the award-winning Master Irrigator program created and run since 2016 by the North Plains Groundwater Conservation District in the Texas panhandle.
​
Topic experts from Colorado and adjacent Ogallala states serve as instructors for the 32 hours of the program. Colorado Master Irrigator's interactive class format is designed to encourage peer-to-peer exchange among participants and instructors. We intend to help graduates forge several useful connections that will benefit them and their operation long after their participation in this program.
Colorado Master Irrigator's Goal Is to equip producers with the knowledge they need to evaluate the potential pros, cons, costs, and methods to help pay for/recoup costs of implementing different tools and strategies to improve water and energy use efficiency and conservation, soil health, and profitability on their operations.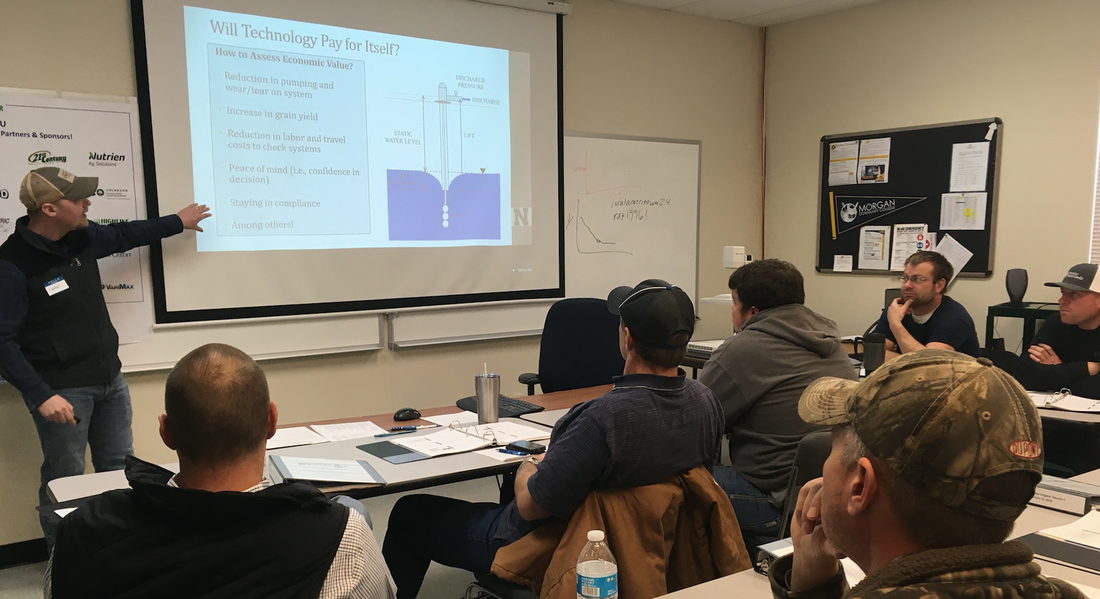 Daran Rudnick from University of Nebraska-Lincoln, presents to the 2020 CO Master Irrigator class on economics related to using soil moisture sensors.
Thanks to our partners, our graduates are able to take advantage of special discounts, products, and other incentives tailored specifically for our program participants!
See the 2022 Colorado Master Irrigator program partners and learn how you can join!